Solar powered generators are increasingly becoming the mainstay of cost-effective, sustainable and Eco-friendly sources of energy in households and off-grid applications. The generator will capture the sun's energy using the solar panel and then store it in the battery and subsequently power a myriad of devices through the DC to AC inverter device.
The thought of purchasing the best solar generators is a good one until you're faced with a plethora of devices to choose from. There is a broad range of these generators in different features, designs, shapes, and sizes, which can be cumbersome to a beginner. We've compiled a detailed review and included the comparison table and the buyer's guide to help you with your purchases.
For a quick getaway, you can have a look at our top pick Renogy Phoenix all-in-one Portable Generator (buy on Amazon) as the best portable solar generator with all the features you would expect in a generator. It comes with a 20-watt solar panel to capture more energy and power many of your devices while spending time in the wilderness.
Photo
Model
Output
(Max)
Battery
Capacity
Weight
Perfect for
Goal Zero Yeti 400 Solar Generator Kit
300 W
400 Wh
39.5 lbs.
18 Kg
Camping
Chafon 346WH Portable UPS Generator
500 W
346 Wh
7.43 lbs.
3.4 Kg
Emergency power backup
Monerator Gusto 10 Portable Generator
80 W
128 Wh
4.9 lbs.
2.2 Kg
Outdoors excursions
Renogy Phoenix Portable Generator
150 W
236.8 Wh
12.8 lbs.
5.8 Kg
Camping,
Outdoors excursions
Wegner Solar Generator Portable kit
10 W
33.3 Wh
5.56 lbs.
2.5 Kg
Outdoors excursions
Buyer's Guide
Now let's delve into the buyer's guide to help you make an informed purchase. The choice of the best solar powered generators can be daunting among hundreds of products on the market. This buyer's guide should help you stay alert to avoid regrettable purchases.
What makes a good solar generator?
Choosing a solar-powered generator that fits your needs should be done with a sharp eye. There are many factors to take into account, and these include the output, battery capacity, size and weight, warranty, and the types of solar panels.
Generator's Output Vs. Battery's Capacity
Output, measured in Watts, refers to the maximum power that the generator can output at once. A 400-Watt generator, for example, is more powerful compared with a generator of 300 Watts. Simply put, you can charge 80 iPhone devices with the 400-Watt generator. In contrast, a 300-Watt generator can charge 60 iPhone devices altogether. An iPhone charger delivers 5 Watts (5 volts at 1000 mA).
On the other hand, the capacity of a battery, measured in Watts-hours, is the maximum amount of energy it can store. For instance, a 400 Watts-hours battery (fully charged) can power 40 light bulbs of 10-Watt each, for one full hour, 20 light bulbs for 2 hours, etc.
You may have wondered, why bringing up both factors in one place?
Well, since we're talking about solar powered generators with built-in batteries, it makes sense to consider both.
Let's pick two generators from our list;  Goal Zero Yeti (Buy it on Amazon)  versus Chafon Portable UPS Generator (Buy it on Amazon). If you need to use one as an emergency backup, then Chafon, with 500 Watts and 346 Watts-hours, is your best bet. In other words, the power outage may not last for days and your only concern is to power as many devices as it can. Conversely, Goal Zero Yeti, with 300 Watts and 400 Watts-hours, is capable of powering much time longer but fewer devices than what Chafon can deliver. For this reason, Goal Zero is perfect for outdoors and camping while Chafon is considered as an emergency backup generator.
It's worth noticing that some customers would prefer one solar-powered generator over another. Others might complain about these generators. In fact, they are not aware of what best fit for their needs. As a result, they fell victims paying for products which are not up to their expectations.
Size and Weight
If you plan on traveling with these solar generators, then you should consider the size and the weight. There is no standard size or weight, but your instincts should help you select the right size and weight. These parameters define the portability of the generator. Also look for other convenient features such as wheels and the handles or the foldability of the generator.
Warranty
Warranty is also an important factor to look at. It helps to know how long the company sticks with you while experiencing some faults. The minimum warranty as seen in our products is 12 months. The solar panels, however, should come with longer warranties depending on the brand. On average, their performance lasts for 25 years.
Types of Panels
Many of these solar generators come with built-in solar panels. Nonetheless, some can be replaced. Others give you the flexibility to actually buy your favorite solar panel. In your purchases, take note of the types of solar panels, viz. mono-crystalline, thin film, and polycrystalline. In order of efficiency, mono-crystalline comes first, followed by poly-crystalline then lastly the thin film.
Battery Capacity
The crux of solar powered generators is the battery capacity. The higher the capacity is the more devices to power. The capacity of these batteries is measured with watt-hours And the choice of the capacity is often influenced by the types of devices to charge. In some generators, you can expand the number of batteries or replace the provided one.
Best Solar Generators in the Market
Goal Zero Yeti 400 Solar Generator Kit –Best Generator for Investment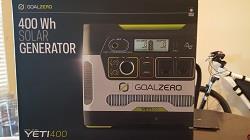 Goal Zero Yeti 400 is indeed portable weighing just 39.5 pounds (18 Kg), which is travel-friendly to any outdoor setting. Power outages in your household can be solved with this power source.
Yeti 400 Solar Generator comes with a built-in AC inverter to readily power your gadgets such as laptops, CPAP machines, mini freezers, lights, and many more. It provides ample, sustainable energy without the noises and fumes often given by conventional fuel-based generators.
The generator features 2.1A USB ports to charge electronics directly, and 120W 12V ports for car connections. Included with your purchase is the one Nomad 20W solar panel which extracts the sun's power. Note that the generator can take only up to 120W of the sun's power so this should limit you when expanding the solar panels.
We expressed our dissatisfaction in a little warranty of 1 year for Goal Zero solar panels and battery's warranty of 6 months. But, considering that the generator requires little maintenance, this shouldn't be a deal breaker to replace the components while enjoying a sustainable energy.
Chafon 346WH Portable UPS Generator – Best Emergency power backup Generator
Chafon Portable UPS Generator (Amazon Link) is a compact power source weighing just 7.43 pounds (3.4 Kg). It bears a shape form of a briefcase with a handle to carry it to any place. You can charge devices up to 500W on this generator. It comes with the USB ports and 12V port to connect with the car.
There's an output for the pure-sine wave inverter to convert DC to AC for your appliances. In case your car needs a jump starter, the generator can come to your rescue because of its high power output and available ports. It features also the LED flashlight which can help for nighttime visibility or as an alert that the battery is low or fully charged.
This device comes with the battery UPS surge protection for your networking devices, workstations, and many more. Its battery is rechargeable, and can be recharged using the normal wall AC outlet or the car. The generator has a warranty of 18 months.
In your package, you will find the UPS backup battery, user manual, AC charging cable, MC4 connector cable, 0.6m car charging cable, smart clamps, and DC cable. Note that the device does not come with the solar panel. It works well with the 40W to the 100W solar panel which you should purchase separately.
We recommend the Chafon 40W/0.053Hp Universal Folding Solar Panel (Amazon Link). It is a monocrystalline panel with 18V aviation DC output and the USB 5V/2A port. The panel is highly efficient with a conversion rate of 18-20% of solar power into electric energy. What's interesting with this panel is its portability of a foldable design. Moreover, it costs $150, which shouldn't be much of a burden to your bank balance.
Monerator Gusto 10 Portable Generator– Best Generator for Your Money
Monerator Gusto 10 Portable Generator (Amazon Link) comes with a powerful battery to rescue you in emergency power outages or serve as a backup of power. It can even be embraced in outdoor activities such as fishing and camping while enjoying the maximum power output of 128Wh lithium battery.
The generator includes the 12V DC/110V AC outputs and the USB port for immediate connection of your electronics. But, note that the USB port can take up to 5V. So, for your appliances that require up to 110V, you can rely on the included inverter.
Monerator weighs just 5 pounds (2.2 Kg). This makes it a portable generator you can walk around with while powering your mini-compressors, TVs, laptops, CPAP machines and any other small electronics you would like to travel with. If you need more power for household use, you can include an additional battery to your Gusto 10.
The company is offering 10 years of warranty. This is better than most products with a limited warranty of 1 year like the first product.
The product is protected from over-charge, over-voltage, over-heating and over-current by the battery management system. The battery is a lithium iron phosphate which is more powerful than the lead-acid battery.
The standard accessories included in your purchase are the charger adapter, lamp and hold, and DC/AC inverter. You have the option to choose between 10 watts or 20 watts solar panels to pair with this generator to extract solar power.
Renogy Phoenix Portable Generator – Our Top Pick
Renogy Phoenix Portable Generator (Amazon Link) is a traveler's or homeowner's companion. The generator is an all-in-one power source with built-in 20 watts solar panel which can be expanded up to 100 watts if your power needs have risen.
The generator can make your outdoor stay very enjoyable with its powerful 16 Ah Li-ion (NMC) battery. It is coupled with the MPPT charging technology to optimize your charging efficiency. The Pure-Sine inverter also plays a significant role in charging your appliances with the conventional Ac power. The other feature is the multi-mode 3 W LED which can signal low power or over-charge.
The maximum continuous output power is 150 W combined with the AC output frequency of 60 Hz. All these make this generator a preferable companion in outdoor activities when you are far from the wall outlet. It can be charged by a solar panel, AC wall outlet or the car power. A special request is that, do not leave this generator exposed to an excessive heat over 104 Fahrenheit (40 °C) for prolonged periods as it can overheat.
Wegner Solar Generator Portable kit – Best Affordable Solar Generator
Wegner Solar Generator Portable kit (Amazon Link) is more of a multi-functional portable solar generator. Immediate impression lies with the built-in MP3 Player and the FM Radio to make your outdoor expeditions more entertaining. These additions do not attract a hefty price tag – still costs under $100.
The generator is a 10 watts power source with the integrated 6-watt solar panel and the power inverter for provisioning of Ac power to your appliances. The battery is rated at 9000mAh and it is rechargeable using solar or the AC wall outlet.
More features in this device include the 2 USB 5V DC ports to charge your laptops, tablets and many more electronics. Then the 3.7V output powers the LED light. The generator supports the SD card to play your MP3 songs.
The package includes the remote control, user manual, power cable, 3 LED lambs, portable generator, solar panel, USB cable, and 5 rechargeable batteries.
Wrap up!
This comprehensive review of the best solar generators will help you make an informed decision. We have handpicked the best products on the market, and provided the comparison table to give you a glimpse of how they compare. The buyer's guide highlighted the important features you need to consider before making any purchase.