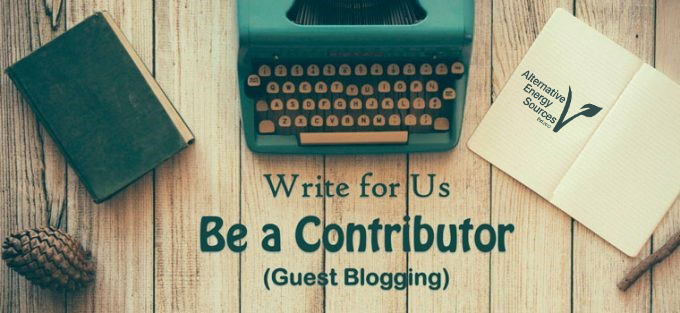 Hello!
Welcome to the Alternative Energy Sources V!
We appreciate your exploration and interest to Write for us as a Guest Blogger. Here we are sharing the details which you may find useful to collaborate with us for Guest Blogging.
In 2012, we started Alternative Energy Sources V as a renewable energy blog with the goal – "Helping people to adopt the green concept." For the same reason, we chose our tag-line 'Help Us Sustain Our Environment. '
We have evolved over time and now we offer How-to guides about Solar panels, Wind Turbines, and Geothermal heat pumps. We also publish Product/Service Reviews, Deals & Offers for solar-powered resources like Solar kits, Solar generators, charge controllers, chargers, etc.
Guest Post Opportunities – Write for Us
We recently start accepting Guest Posts. Presently, we are open for Guest Blogging on the following topics:
Solar Energy (solar panels, Solar DIY, Solar heating, etc.)
Wind energy (Wind Turbines, Windmills, Wind Farms, etc.)
Geothermal Power (Heat pumps, power plants, etc.)
Hydroelectric energy.
Tidal Power.
Biomass (biofuels, etc.)
Any out of the box alternative energy.
A combination of any of the above-mentioned.
Energy saving cars (electric cars, hydrogen cars, alcohol cars, biofuels cars, etc.).
Recent news on the above topics.
Now, let's discuss what you get being a contributor and benefits of Guest Blogging at Alternative Energy Sources V.
What's in it for you? – Benefits of Guest Blogging
Brand Promotion
You can leverage Alternative Energy Sources V platform to reach our audience to promote your brand, blog or website.
Social Media Penetration
We will promote your guest post throughout our social media networks – Facebook, Twitter, and Pinterest, etc.
Backlinks
Though we do not encourage guest post submission merely for backlinks. But the backlinks are important, and we understand that very well. That's why we allow one backlink per <1000-word post and two backlinks otherwise.
You may want to add ONE link to 'About the Author/Author Bio' section.
We highly recommend guest authors NOT to use a keyword link to avoid removal of the link. Hence, Keyword links are not accepted at all.
Guest post (including all the links) moderation is reserved with Team Alternative Energy Sources V.
Author's Bio
The guest post will be published with Author Bio, displays right below your post. That helps you spread your online presence.
Guest Post Sample
As sample Guest Post for reference can be seen here. (This post does not have author's bio upon his/her request).
How to Submit Your Guest Post
First of all, you need to mail us a brief overview (guest post idea) of the article at admin@alternativeenergysourcesv.com for Guest Posting, we will review your post idea.
And if your idea gets approval,

You may write your draft post and Author Bio.

Share the same with us over mail (in .docx format only) for review and feedback.

After finalization of your post, we'll publish the same on our website.
Note:
Use your domain email (yourname@example.com) to submit a guest post proposal. Also, include your social media profile (Facebook/Twitter/LinkedIn), so that your identity can be verified. As we are interested to collaborate with real people only.
Guidelines for Guest Post
We expect Guest Bloggers to follow these basic yet important guidelines for Guest Posts.
Guest Post must be about one of the topics which we have mentioned above.
Write great and useful content, share the exponential knowledge you have with the world.
Your article should be unique, interesting and informational. It is recommended to include actionable content along with relevant screenshots.
Only submit Plagiarism free content (Copyscape passed).
Don't submit Re-written, duplicate and/or spinning content, etc. We strictly dealt with such content & Guest Bloggers. We suspend collaboration with such bloggers even for any future opportunities.
Write a riveting article with minimum 500 words (maximum will depend upon the topic and requirement) to be written pertinent/appropriate to the title.
Guest Post should follow all the Yoast SEO Guidelines.
The article should not promote any kind of Service or Product and/or Review of the same. However, if you want to post a product or service review, please contact us via mail: admin@alternativeenergysourcesv.com, we do collaborate with such brands for sponsored review.
We prefer real people for guest post submission. Therefore, it is better to use your domain email (for example – hello@yourdomain.com).
Must share some of your previous work (URLs of your articles already published on other websites).
Note – We discourage irrelevant content or lines authored with the intention to increase the words count. Our editor will inform authors to refrain from such content and delete that at the time of editing, reviewing or publishing.
How do you like being a contributor at Alternative Energy Sources V? Do let us know if you have any query regarding Guest Blogging via our contact page, We would be happy to clarify that.
Looking forward to a meaningful and long-term collaboration with you.
With Warm Regards'
TEAM ALTERNATIVE ENERGY SOURCES V