Lead acid has, for so many years, been the predominant storage of solar power in many households and off-grid applications. They are reliable, efficient and cost-effective; hence many families have used them to store their solar power for many decades. Today, there are many brands on the market and the purchase can be confusing with technical jargon to a new buyer. In this article, we explore the best lead-acid solar batteries on the market.
We make your purchase decision simple by breaking down the technical jargon in the buyer's guide. The comparison table below will give you a glimpse of the differences between these handpicked batteries. For a quick takeaway, our top pick is the Universal UB121000-45978 12v 100AH Deep Cycle AGM Battery (Buy on Amazon). The battery is well-known on the market and has received many positive reviews. It is an efficient solar power storage battery with AGM (Absorbent Glass Mat) technology which is maintenance free.
Here's the comparison table for our lead-acid solar batteries:
Photo
Model
Battery Type
Warranty
Weight
Rating*
Mighty Max Battery
AGM
1 year
63.93 lbs
29 Kg
Renogy Deep Cycle
AGM
1 year
66 lbs
30 Kg
Universal Deep Cycle AGM Battery
AGM
1 year
63 lbs
28.5 Kg
NPP 12V 150 AH Battery
Gel
2 years
100 lbs
45.4 Kg
VMAX MR127 12 Volt 100Ah Deep Cycle Battery
AGM
1 year
67 lbs
30.4 Kg
* The above ratings do not indicate Amazon's customers ratings
Best Lead-Acid Solar Batteries on the Market
We now present the best lead-acid solar batteries on the market with a proven record of excelling in solar power storage requirements. These batteries have a great capacity, best technologies (AGM and Gel), are cost-effective and reliable.
Mighty Max Battery 12V 100Ah SLA AGM Battery
Mighty Max Battery 12V 100Ah SLA AGM Battery is worth an investment for your solar power systems. The battery is a sealed lead-acid (SLA) and uses AGM (Absorbent Glass Mat) technology. What this means is that you don't have to worry about regular maintenance of the battery. Again, you can install the battery in any position except upside down.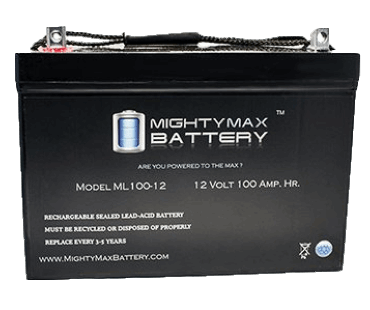 This battery was specifically designed for off-grid solar panels. It performs well and can withstand wide temperature ranges while saving maximum energy. The battery lasts long and the manufacturer is offering a one year of warranty, which we somehow feel is too little. But given the quality of the battery, and provided you take care of it, the warranty of a year is somehow not too bad.
The battery utilizes calcium-alloy grid which enables its high performance in cyclic applications. There is no leaking or spilling because it does not contain the liquid acid inside hence you can install in any position but upside down. The battery possesses an amperage of 100 AH and a voltage of 12V.
Renogy Deep Cycle AGM Battery
Renogy Deep Cycle AGM Battery is yet another 12 volts and 100Ah solar battery, particularly for off-grid applications. The battery also has the AGM technology which brings lots of advantages such as no-leakage; no-spillage and no restricted position of installation except upside down one.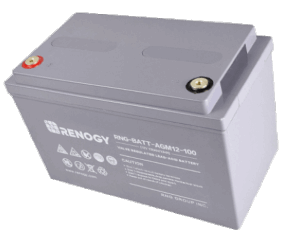 When using Renogy battery, avoid over-discharging particularly when connected in series. Follow the exact charging instructions with the right voltages as explained in the user manual. The depth of discharge, as well as some external factors such as the temperature, can affect the durability of this battery. Also, the discharge rate and the way you recharge it has a significant impact on its longevity.
The battery is versatile in that you can use it in a variety of applications that include, among others, electric motors, golf carts, garden tools, motorcycles, power sports, access control electronics, and for emergency lighting. There's no maintenance needed such as filling of water or replenishing the acid. The lead-calcium alloy resists corrosion to this deep cycle AGM battery.
Universal UB121000-45978 12v 100AH Deep Cycle Battery
Remember Universal Deep Cycle AGM Battery is introduced as our top pick. Not only did we choose it on the basis that many people gave it positive reviews, but also on the grounds of great features it has. It is a sealed lead acid featuring the absorbent glass mat technology. The battery can perform greatly in your solar power systems.
There is a variance of getting the 12V, 24V or the 48V battery depending on your power needs. But the battery is heavy, so get ready to stretch your muscles lifting it up. Other than that, it is a good battery requiring no maintenance because no liquid acid to deal with and no water to refill. The manufacturer is offering a one-year warranty.
NPP 12V 150 Amp NPG12Gel Deep Cycle Battery  
NPP 12V 150 Amp NPG12Gel Deep Cycle Battery is a different battery with a gel technology. Gel technology also provides good benefits of this lead-acid battery for solar systems. However, it's quite expensive compared to other variances of these solar batteries.
The battery was certified under ISO 9001, ISO 14001, and it also UL and CE certified. This reassures us the safety and the quality of the battery. It has better amperage of 150 amp than the AGM batteries reviewed. What we like about the battery is its versatility as you can use it in many applications such as firefighting equipment, telecommunication systems, alarm systems, and emergency lighting.
The design of the battery is very rugged, which makes it conducive if you use it in solar systems' off-grid applications. It is resistant to chemicals, heat, shock, and weather. Added to the benefits is a two-year warranty which is much better than the others on our list. But the price can be prohibitive if you are a budget-conscious consumer.
VMAX MR127 12 Volt 100Ah Deep Cycle Battery
VMAX MR127 12 Volt 100Ah Deep Cycle Battery is another AGM battery with 12 volts and 100 amps. The battery can perform well in storing solar power for your off-grid power needs. Unlike the above Gel battery, this one is portable with 67 pounds of weight. It comes with handles to hold it properly.
The battery's lead-tin alloy provides a high-performance and extends its durability. Again, since it is an AGM battery, it requires no maintenance. It uses an advanced electrolyte suspension system that completely absorbs the electrolyte. When purchasing in bulk, the company can give you a signature confirmation to reassure your customers that you are selling quality and authorized batteries.
Buyer's Guide
Let's now explore the buyer's guide to help you make informed purchases. Many people are unaware of the dynamics of battery technologies that impact their power inputs and outputs. While many technologies have come to the forefront, lead-acid remains a well-known and cost-effective brand for many decades. Gel and AGM technologies revolutionize this technology even further in addition to the old flooded models.
Solar Battery Technologies
There are numerous solar battery technologies. However, the main ones include lead-acid, lithium ion, nickel cadmium, and flow batteries. We've highlighted these technologies below: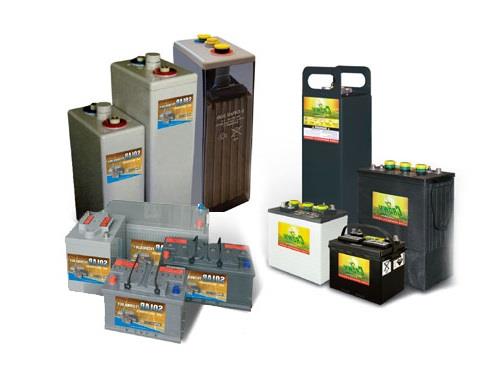 Lead Acid
There's a high possibility you have known about lead-acid batteries only due to their popularity and their renowned identity for many decades on the market. These batteries have a lower DoD (depth of discharge). This refers to the amount of energy you use from the battery before recharging it. The lower depth of discharge translates into a long-lasting battery.
Also, lead-acid batteries are the least expensive on the market. But, from flooded batteries, AGM and finally Gel models, the price increases. In fact, AGM and gel lead-acid batteries are advanced models of this category. Unlike the flooded batteries, these ones are maintenance free. Compared with lithium-ion batteries, lead-acid has low cycles. It is, however, easy to dispose and recycle the batteries than other technologies.
Lithium-ion
These are the batteries found in our everyday handsets such as smartphones and laptops in the compact form. They have a high energy density; they are lightweight but are expensive. There are about six common types of lithium-ion batteries. Nonetheless, lithium iron phosphate is the most predominantly used model in solar power systems.
These batteries have a long cycle life, high current ratings, and good heat stability. They can withstand abuse and abnormal temperatures that lead-acid batteries wouldn't tolerate.
Lithium-ion batteries have a high depth of discharge compared to lead-acid. They are also more efficient even though their costs are prohibitive. Maintenance wise they are also good with no maintenance except cleaning them. And when disposing of them, it depends on whether the battery contains organic or inorganic cells. The inorganic cell-containing battery is not easy to recycle so you will have to purchase a new one. On the other hand, an organic cell-containing battery is easily recyclable.
You may want to take a look at our top picks of solar-powered lithium-ion batteries.
Flow Batteries
These use a chemical reaction to produce energy. Vanadium is a common chemical element used in these batteries. Flow batteries are, however, more expensive than lithium-ion batteries. They have a longer life-cycle and do not lose value rapidly over time. When charging or discharging the batteries, there is no limit. The chemical element is a derivative of fly-ash, obtained from coal plants, so it is non-toxic. So, it can be easily recycled. The battery is maintenance free.
Nickel Cadmium
These models were designed specifically for renewable energy systems. They have many benefits such as a long-life cycle, charge efficiency and low maintenance. They can achieve 8000 cycles at depth of discharge of 15%. The active material in these batteries is the nickel oxide and cadmium. But, cadmium is a hazardous material so it is expensive to dispose of these batteries. The purchase is also more expensive than other technologies.
Technical Specifications of solar batteries
It is important to discern the technical specifications of these batteries so that you can choose without barriers. When making a purchase, consider the battery's capacity, depth of discharge, warranty, power rating, and the type of the battery versus its maintenance as already discussed above.
Battery capacity – this refers to the amount of electricity that the battery can store as measured in kilowatt hours (kWh).
Power rating – this refers to the amount of energy that the battery can provide at any given time measured in kilowatts (kW).
The depth of discharge is also being discussed above. It is expressed in percentages as the amount of energy that you can use before recharging the battery again. The batteries must hold some charges to prevent any degradation. The depth of discharge of lithium-ion batteries is around 80-90% and that one of lead-acid batteries is around 50-60%. Well, flow batteries can be discharged 100% without damaging the battery.
Wrap up!
Lead-acid batteries are the popular batteries for solar systems. They are reliable and cost-effective, and they come in different technologies such as gel and AGM. In our reviews, we focused more on AGM and Gel as maintenance free batteries. Our guide should help you purchase the best lead acid solar battery. We've introduced other technologies such as nickel-cadmium, flow batteries, and lithium-ion. Also explored are the technical jargon such as depth of discharge, power rating and the battery's capacity.