There are plenty of solar regulators on the market but not all of them are actually suitable for your solar energy requirements. In addition to a classification into PWM and MPPT, they come in a myriad of features such as voltage capacity, temperature compensations, current rating, LED lights, LCD displays, loads ports, and designs, among others. In this article, we explore the best solar charge controller for your solar power system to help you in your purchase decisions.
Solar charge controllers are often referred to as solar regulators as they help control the amount of voltage from the solar modules to the battery and to other loads depending on the type of the controller. The common types include PWM (Pulse Width Modulator) and MPPT (Maximum Power Point Tracking). The knowledge about these technologies holds key to your understanding of solar charge controllers.
Let's start by introducing the table below and then delve into the actual reviews. We then wrap up with a helpful guide that discerns the concept of solar regulators.
| Product Image | Product Name | Type | Current Rating | Rating* |
| --- | --- | --- | --- | --- |
| | SolarEpic | MPPT | 40A | |
| | EPsolar ACOPOWER | MPPT | 10A | |
| | Renogy Rover | MPPT | 20A | |
| | Y-SOLAR | PWM | 80A | |
| | ZHCSolar | PWM | 80A | |
| | GHB | PWM | 20A | |
* The above ratings do not indicate Amazon's customers ratings
Best Solar Charge Controllers on the Market
SolarEpic MPPT 40A Solar Charge Controller
SolarEpic MPPT 40A Solar Charge Controller [Amazon Link] is a compact charge regulator for all your standalone solar systems. It is an advanced solar system power regulator with the MPPT technology. Unlike PWM, MPPT works in extended conditions such as optimizing maximum power from the solar panel to charge your battery as well as other loads. The PWM would limit the amount of load and would require a match of the solar panel's voltage with the one of the battery.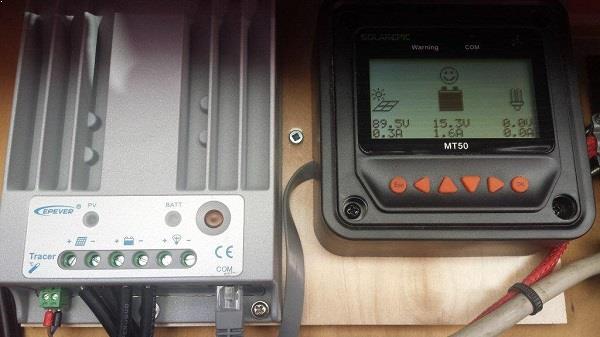 Thanks to a high input up to 150V and a current rating of 40A that you can safely charge your battery. While this may not be the top on the market, it outsmarts hundreds of PWM controllers. It protects against abnormal temperatures, over-charging, shot circuit, over-current, and over-discharging. The controller's LVD (low voltage disconnect function) helps in protecting the battery from over-discharge. It connects instantly.
With the advanced smart tracking algorithm this controller features, you can take your solar system battery charging to another level. But the device does not come with the LCD monitor that can help you monitor or set it. Instead, you have to purchase that separately and we would like to recommend the SolarEpic MT-50 Remote Meter LCD Display [Amazon Link] specifically for this controller.
This battery works well with 12V/24V DC batteries. It is more efficient with a good conversion rate. Also, it supports gel, sealed, flooded and custom batteries, while it also has a self-diagnostic feature to prevent the damage of the battery. On in all, this controller makes charging an effortless task that improves the overall performance of off-grid solar systems.
Overall, this is the best MPPT solar charge controller from our list.
Buy it on Amazon
EPsolar ACOPOWER 10A MPPT Solar Charge Controller   
EPsolar ACOPOWER 10A MPPT Solar Charge Controller [Amazon Link] is also an MPPT solar charge regulator with the current rating of 10A and a maximum voltage input of 100V. Of course, the above product outsmarts the ACOPOWER. Nevertheless, it is still one of the best MPPT products we have come across with impressive features.
The control has a good temperature sensor to protect your battery against high temperatures. Its advanced MPPT technology boosts the efficiency of over 99% and a peak conversion efficiency of about 98%. These are the parameters that make this control a standalone in its price range.
It features the 3-stage charge with the output of PMW. And operating has become an enjoyable task with the multifunctional LCD display that shows you important information about the performance. On that LCD display, you can only configure the settings of the controller.
In terms of safety, this controller boosts advanced safety features such as overcharge protection, over-discharging, over-current, short circuit, overload, overheating and reverse polarity protection. These are the perks of using MPPT technology. The controller is compatible with 12V/14V batteries, and it detects them automatically.
If you are not satisfied with the purchase, you can return the product and claim your money back. Otherwise, the manufacturer is giving an 18-month warranty period.
Renogy Rover 20 Amp MPPT Solar Charge Controller
Renogy Rover 20 Amp MPPT Solar Charge Controller [Amazon Link] is a flagship of Renogy – a renowned manufacturer of solar system components. Here's yet another MPPT charge controller rating at 20A with a maximum voltage of 100V DC. The controller is best suited for your off-grid applications.
Its 4-stage battery charging helps boost efficiency and safety of your system. Add this to the controller's unique features of protecting the battery against over-charging and over-discharging to make sure the battery stays within its maximum voltage requirements and that it does not deplete its threshold lest it gets damaged.
The design of the controller has been optimized with the die-cast aluminum for a better and even heat distribution. An LCD screen is included on which you can monitor the parameters of your battery and also program some features. Adding to these features is a high tracking efficiency close to 99%. Again, the controller has an auto voltage detection features which can tell if a 12V or a 24V is connected. But a year of warranty is a bit little.
Y-SOLAR 80A Solar Charge Controller
Y-SOLAR 80A Solar Charge Controller [Amazon Link] is one of the affordable charge controllers suited for budget-conscious solar power avid customers. It also has one of the highest current ratings of 80A and is compatible with 12V/24V batteries. Unlike the technology-specific controllers, this one accommodates both the MPPT and PWM charging modes. So it capitalizes on both technologies to bring you the best charge regulation.
Furthermore, the controller has the adjustable temperature compensation and control parameters on its simplified and user-friendly LCD display. Moreover, the controller protects the battery against short circuit, over-charge, reverse polarity, over-discharge, and over-heating. Considering its variance of technologies, it is rare to find a solar charge regulator of this caliber.
The aluminum design resists corrosion. Let's also embrace the 2-year warranty the manufacturer is offering. The product also comes with the 5V USB charge port rated at 1500mA.
ZHCSolar Solar Charge Controller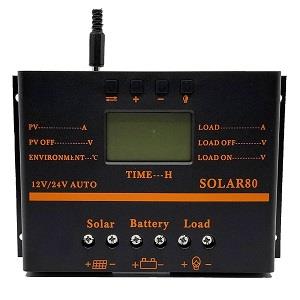 ZHCSolar Solar Charge Controller [Amazon Link] is a budget-friendly charge controller suited for off-grid applications. Those starting to explore the adventures of solar systems can actually delight in this solar charge regulator in charging their batteries. It comes with a rating of 80A and is compatible with 12V/24V batteries. Also, it can input 1920W of power from solar panels.
The controller supports the maximum input voltage of 24V/960W and 48V/1920W. It was designed to protect your solar battery from over-charging, short circuit, reverse connection, over-current, and over-heating. Looking at its design, one can see it's a product to last for a long time as it is made of ABS materials. Meanwhile, the manufacturer is offering a 2-year warranty.
The maneuverability of this controller is also noteworthy. It allows you to configure the parameters to your liking. You can, for example, adjust charge and discharge parameters and set the operation mode.
In conclusion, it is the best PWM solar charge controller as we've indicated that in our rating from the above table.
GHB 20A 12V 24V Solar Charge Controller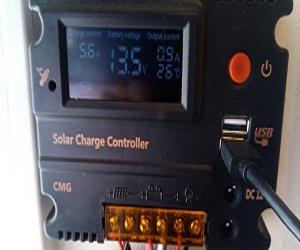 GHB 20A 12V 24V Solar Charge Controller [Amazon Link] is our last product in the review. It boasts a current rating of 20A and supports 12V/24V batteries. Its auto switch LCD makes it even more convenient to monitor the controller and adjust settings. Not only does it protects from overload but also compensate for the temperature.
The USB output voltage is 5V and the total USB current is 3A. While the controller might seem to be inferior with quality due to a low price, it actually has advanced features. It protects your battery from lightning, overcharge, over-discharge, overcurrent, and overheating. But the battery is too small to be suited for large solar panels. It is a PWM technology, and you can do better if charging the phone or powering the DC lamp.
Buyer's Guide
Solar charge controllers form an integral part of every large solar system installation mainly for off-grid applications. Like any other solar components, many people are overwhelmed by the terminologies and confusing technical specifications these controllers have. In this buyer's guide, we discern the main specific aspects you need to know before you purchase.
Why do you need one?
The controller controls and manages the current and voltage from the solar panels to your battery. Had it not been these controllers, many of these solar batteries could have been damaged. The controllers protect against overcharging, overheating, over-discharging, and overcurrent. The voltage and current pass by the solar charge controller before it goes to the battery especially in large solar system installations.
How to select a solar charge controller?
Voltage selection
It is important to select the solar charge controllers based on the voltage. But this voltage selection is mainly based on the type of technology between PWM and MPPT. The MPPT controller can withstand higher voltage of the solar panel than the battery. With PWM there should not be a huge difference. For example, a 12V solar panel should be used with a 12V battery.
Current Capacity
When selecting the controller, the current capacity is also important. For optimal performance, choose the charge regulator with the maximum output of current of the solar modules. This maximum current is referred to as the short circuit current.
More on how to choose the right solar charge controller>>
Choose the proper charge controller for solar panel sizes below:
Solar Panels 5w – 45W
Phocos CM04 12V 4A PWM [Amazon Link] is a portable controller for solar panels in this range. It takes a maximum charge of 4A.
Solar panels 45W-70W (up to 70W)
The Renogy Adventurer – 30A 12V PWM Flush Mount Charge Controller [Amazon Link] is a relevant controller in this range.
Solar panels 70W-120W (up to 120W)
Phocos IP68 10Amp CIS10 Solar Charge Controller [Amazon Link] is more suited for solar panels ranging from 70W up to 120W.
12V Solar panels 120W-160W (up to 160W)
Divide the watts by the battery voltage to obtain the relevant amperage then add 25% to compensate for the colder temperatures. For example, 160W/12V = 13 amps + 25% = 16.33amps. In this case, a 20A would be appropriate, and this includes Renogy Rover [Amazon Link] and GHB 20A 12V 24V Solar Charge Controller [Amazon Link].
24V Solar panels 120W-160W (up to 160W)
Likewise, 160W/24V + 25% = 12.6 amps. You would, therefore, look for 13A controller. EPsolar ACOPOWER 10A MPPT Solar Charge Controller [Amazon Link] is a proper controller.
Wrap up!
Having highlighted the best solar charge controllers and their technical specifications, you should be in a position to choose among the ones we've provided. These controllers are very important for all large power systems as they benefit the batteries. So you wouldn't like to charge the battery directly from the solar panel. Many factors have to be considered in that case.